← Back
MGS2 Trainer
An external tool with various features to help runners practice strategies.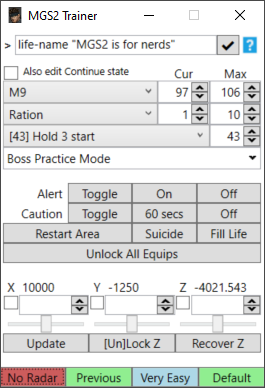 Download
mgs2trainer-a48.zip
Instructions
Extract the zip file to any location
Optional: edit

HotKeys.json

in a text editor to customise keyboard/gamepad hotkeys
Run

MGS2Trainer.exe

(requires administrator)
Known Issues
The Warps feature (near the top of the window) is heavily work-in-progress. Use at your own risk.